FIRM
Profile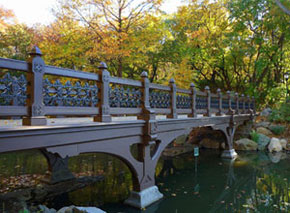 Jan Hird Pokorny Associates is a full-service architecture firm with a strong focus in historic preservation work. Our services include condition surveys, documentation, materials conservation, historic research, historic structure reports, master planning, feasibility studies, restoration and adaptive reuse, development of documents and specifications, and construction administration.
The firm has completed a broad range of commissions since its establishment in 1946 by its namesake and Chairman, Jan Hird Pokorny, FAIA. Since the late 1960s, however, the firm's focus has increasingly been on architecture, planning and preservation for historic buildings and sites. Today, almost all of the firm's projects involve landmark buildings deemed to be of local, state or national significance. The firm's commissions vary widely in scope and scale, but the common thread is work on landmarked historic structures whose restoration and preservation require sensitivity towards contextual planning and design, as well as knowledge of historic materials and construction techniques and current conservation practice. JHPA is committed to preserving the irreplaceable quality of older structures through harmonious designs, careful restoration of materials, and attention to detail.
A profile of the firm's past work includes the re-location of a small new-world Dutch house, a master plan for a large historic house museum, conceptual design of a new building in Central Park, and a full exterior envelope restoration of a cast-iron ferry terminal involving multi-disciplinary teams of engineers, conservators, and specialized sub-consultants. The firm generally acts as the prime architect for most of its projects, but is also engaged as a historic preservation consultant to large architecture firms and agencies, charged with assessing new design impact on existing landmark buildings and delineating specialized restoration work on those structures.
JHPA's current work profile is reflected in the makeup of its staff, many of whom have advanced degrees in historic preservation in addition to backgrounds in architecture. Two of the principals teach in the fields of architecture and historic preservation, helping to provide JHPA with a greater awareness of new developments and innovative practices in the field.
Aside from its work on historic buildings, JHPA is most proud of its ability to work closely with clients and remain sensitive and responsive to their needs throughout the course of a project. The office is ultimately a service-oriented one, with a long list of repeat clients. Our staff of architects, conservators, and project managers excels at working with owners to establish sensible, cost-effective approaches to restoration, helping to ensure lasting work that is respectful of original fabric, but which takes advantage of modern advances in building technology and construction when appropriate.